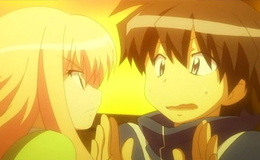 "The Three Vallière Sisters"
"Variēru no Sanshimai" (ヴァリエールの三姉妹)
Louise's eldest sister Eléonore drags her, Saito, and Siesta back to the Vallière mansion, where Louise is announced to be engaged to a duke. Louise tries to prove to her family that she isn't the "Zero" anymore but cannot reveal that she is a user of Void. Meanwhile, Louise looks for Saito, goes into his room, and kisses Siesta, whom she has mistaken for Saito. Saito goes to talk to her at night but instead finds Eléonore who beats him. The next day, when Louise's father forbids her from going into war she gets upset and flees to a children's boat. Louise's gentle and kind sister, Cattleya, convinces Saito to stay by Louise's side. Saito finds her and confesses his true feelings to Louise then makes out with her, fights his way out of the Vallière residence, and heads back to school with Louise. She doesn't believe him about what happened and beats him again while Siesta tells herself she is the only one for Saito.