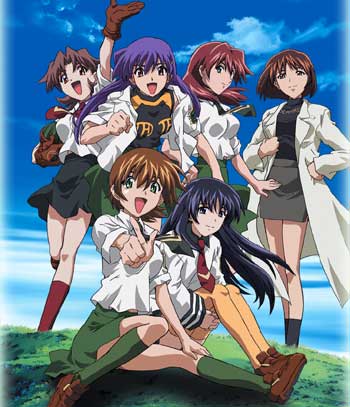 It is the refreshing season of early summer. Deep in the lonely mountains, surrounded by endless nature, the secluded male reform school Hane no Oto Campus is located. Among the illustrious students, meet the Baka Trio (Idiotic Trio): The motivated spirit Bachi-Guu, your typical idiot Ichibansei, and the big guy Tenjin. Not to forget the obligatory average main character Takasaki Yuusuke.
Worrying about their campus life, disaster strikes! Before boys and girls can attend classes together, an evaluation period was required, allowing high school girls to visit the all-boys campus. Of course the Baka Trio hears of the "female invasion" first, and is appropriately exited. However, faced with the unknown opposite sex from the city, they do not know how they should approach them. And so, eventually a bus-load of girls arrives at the campus.
"Yuusuke-kun!" — One of the exuberant female students, Chitose Midori, exclaims exiting the bus, greeting the dumbfounded Yuusuke. Their eyes meet, and the girl hugs Yuusuke severely… but who is this strange girl?
Green Green – Episode 1
Green Green – Episode 2
Green Green – Episode 3
Green Green – Episode 4
Green Green – Episode 5
Green Green – Episode 6
Green Green – Episode 7
Green Green – Episode 8
Green Green – Episode 9
Green Green – Episode 10
Green Green – Episode 11
Green Green – Episode 12
Green Green – OVA