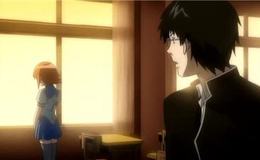 夏の日にようこそ
Natsu no Hi ni Yōkoso!
Welcome to Summer Days!
Kaoru is crushed when he is turned down by a girl named Nanako Midorikawa, after inviting her to go a fireworks festival with him. She claims that she has an audition the same night, and Kaoru accepts this excuse but does not believe it. Meanwhile, Tatsuhiro is tormented by his newfound feelings for Misaki, and is so disturbed he can't concentrate on writing a scenario. Tatsuhiro and Kaoru decide to showcase their game in the Summer Comiket, otherwise known as NatsuComi. Tatsuhiro later goes with Misaki to the fireworks festival.