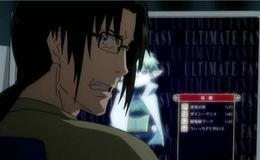 ノーフューチャーにようこそ!
Nō Fyūchā ni Yōkoso!
Welcome to No Future!
Realizing he has been tricked, Tatsuhiro meets with Megumi to call the deal off. Although, she seems willing to let him go at first. Nonetheless, she soon manages to distract Tatsuhiro, Misaki, and Kaoru, eventually selling them an ersatz set of dietary supplements, which would allegedly help Tatsuhiro with his hikikomori problem. On the way home, they realize they have been fooled, and they ultimately confront Megumi at her home, only to find her brother, Yuichi Kobayashi, is actually one of the players who tagged along with Tatsuhiro in the MMORPG "Ultimate Fantasy".