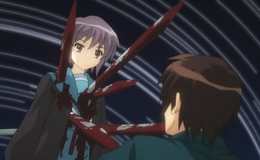 "Remote Island Syndrome (Part One)"
"Kotō Shōkōgun (Zenpen)" (孤島症候群(前編))
A supposed distant relative of Itsuki, later recognized as Keiichi Tamaru, allows the SOS Brigade, along with Kyon's sister, to stay at his newly built island villa. On their first day there, they enjoy the facilities and play outside on the beach, but are soon drawn inside by the arrival of a storm. While waiting for the storm to pass, Haruhi and her friends play games indoors and have fun together. Later, Keiichi disappears, and everyone starts searching for him. Ultimately, the SOS Brigade members find Keiichi dead in his room.