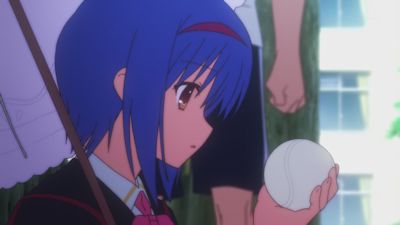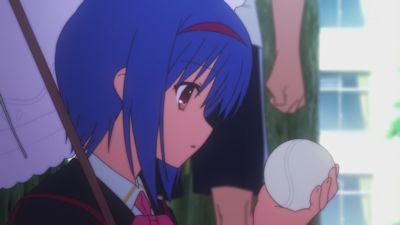 "The Blue of the Sky and the Blue of the Sea"
"Sora no Ao Umi no Ao" (空の青 海のあを)
Riki is tasked with finding the last member of the Little Busters to have a full baseball team of nine. Riki hits a foul ball that hits Mio and he brings her a compress the next day. He notices that Mio always has a parasol and that he always sees her reading under the same tree in the courtyard. Their other classmates call Mio "shadowless" because of the parasol and the fact that she does not have much presence. Riki wants to help her like Kyousuke and the others helped him, so he asks Mio if she would like to join the Little Busters, but she declines. Later, Yuiko enlists the help of Riki to help find Mio's book. They go back to the classroom, but are unable to find it, thinking that someone may have hidden it as a joke. However, Yuiko arrives to explain that there was no wrongdoing, and the girl who had picked up the book before gives it back to Mio. Some of the Little Busters members come to get Riki for practice and Mio goes to watch them play.