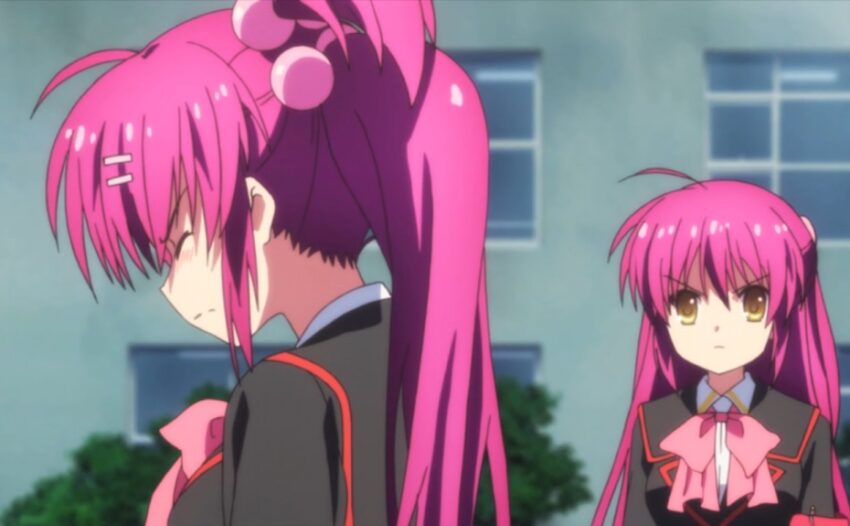 "Don't Look At Me Like That"
"Sonna Me de Minai de" (そんな目で見ないで)
Masato battles Haruka after she eats some of his katsudon, but he loses quickly. Later, Riki, Rin and Komari watch as Haruka starts to repair a bench which she has fond memories of, but Kanata arrives and points out that the bench was already going to be destroyed so there was no point in trying to repair it. Haruka and the others watch as two other disciplinary committee members destroy the bench and take away the remains to be incinerated. Haruka is taken away to the disciplinary committee to answer for her numerous infractions, but she loses her composure from the committee members laying countless blame on her, including accusing her of wrongdoing she did not commit. Before she can make things worse for herself, Yuiko intervenes and calms the situation, though Haruka is still ultimately punished. Another day, the whole school is in an uproar after flyers are posted all around school saying that Haruka's father is a criminal. The members of the Little Busters go around school collecting and taking down the flyers until they finally find Haruka, who had been crying alone in the baseball clubhouse. She explains that in her family, each woman takes two husbands, and one of her mother's husbands was later arrested for attempted murder. Finally, Haruka reveals that she and Kanata are in fact twins.