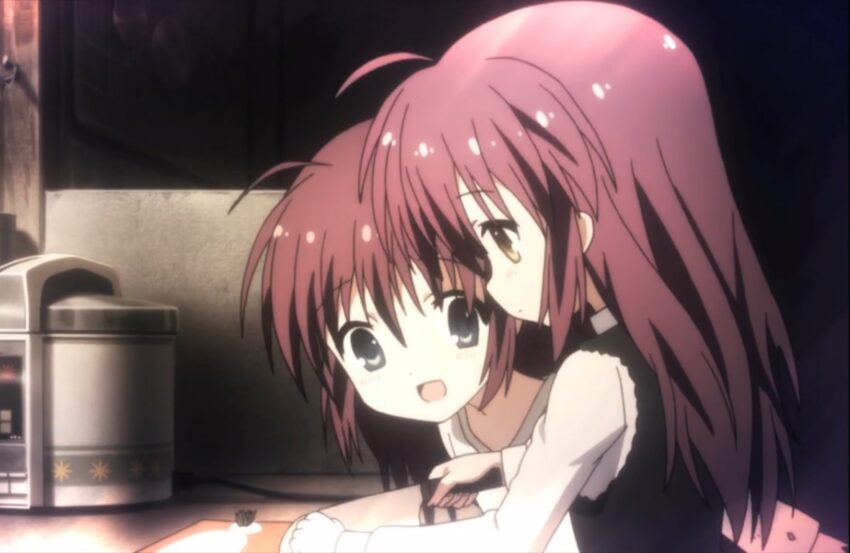 "The Answer is in Your Heart"
"Kotae wa Kokoro no Naka ni Arun da" (答えは心のなかにあるんだ)
As it begins to rain, Haruka confronts Kanata and discovers that Kanata had lied to her when they were younger about being allergic to eggs. After Kanata leaves, Kudryavka tells Riki that she is a nice person when inside their room, and merely pretends to usually be cold. Riki finds Kanata in a classroom and she tells him how she told Haruka she was allergic to eggs to protect her from getting beaten by their family, but Haruka finds it difficult not to shoulder all of her hate onto Kanata. Later, Riki convinces Haruka to go talk to Kanata, and she tells her she wants to know the truth about their family. Though initially reluctant, Kanata tells Haruka that their family was nice to her as long as she was better than her, and that the Futaki family often beat Kanata whenever she went easy on Haruka. Kanata had to secure the succession of the Saigusa family and be hard on Haruka, or else they would have killed Haruka. Haruka apologizes for thinking that she was the only one having a hard time, and she reconciles with her sister. Kanata decides to leave the family and the two go see Shō, who tells them their mother and their other father tried to leave the family with Haruka and Kanata, but the Saigusa family took the kids back, prompting Shō to intercede and ultimately go to jail as a result. Haruka tells him that she does not have to know who her real father is anymore, and later, Haruka and Kanata go see their mother and other father.