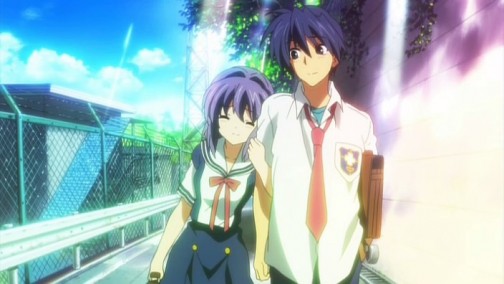 もうひとつの世界杏編
Mō Hitotsu no Sekai Kyō-hen
Another World: Kyou Chapter
In one of the timelines (more akin to the Fujibayashi Twins' route in the visual novel), Ryou confesses her love to Tomoya and they both begin dating. However, Tomoya soon notices that Kyou has been acting strange, and confronts her. Kyou admits that she is also in love with him, but never confessed because she was too scared to risk being rejected or hurting Ryou's feelings. This creates an uneasy love triangle among Tomoya, Kyou, and Ryou, leading Tomoya to finally admit that he loves Kyou. Ryou, already knowing that Tomoya loves Kyou more, encourages Kyou to work up the courage to confess. Ryou breaks up with Tomoya with no hard feelings, wanting to cherish both the good and painful memories they had together. Tomoya and Kyou then officially become a couple.