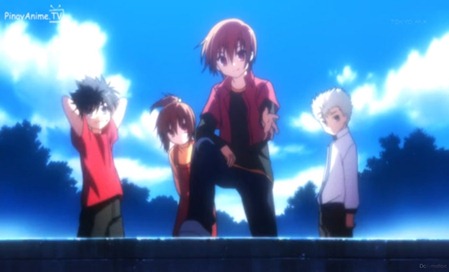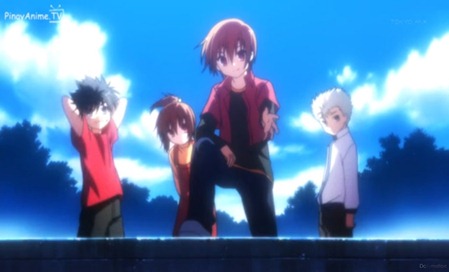 "The Team Name is…Little Busters"
"Chīmu Mei wa…Ritoru Basutāzu da" (チーム名は…リトルバスターズだ)
Awakened early in the morning by someone announcing the return of Kyousuke Natsume, Riki Naoe goes to stop his roommate Masato Inohara from fighting their friend and Masato's rival Kengo Miyazawa. Riki asks Kyousuke to intercede, who tells them to fight only with objects thrown from the crowd of onlookers. Kyousuke's younger sister Rin objects when Masato tries to use a white cat as his weapon, causing Kengo to lose interest. Riki reminisces how he has been friends with Kyousuke, Masato, Kengo and Rin since childhood when they brought him into their group called the Little Busters. Riki later suggests that the five of them do something together like they used to, and Kyousuke proposes that they play baseball under the team name Little Busters. Kengo immediately excuses himself from this, as he has to prepare for a kendo tournament. Later that night, Kyousuke gets Rin to go to the girl's dormitory to try to recruit team members. After a couple of failed attempts, Rin is confronted by Sasami Sasasegawa and three other members of the softball team; Rin ends up losing the fight. The next day, Riki goes looking for new Little Busters members, which leads him to follow a girl up to the school's roof.