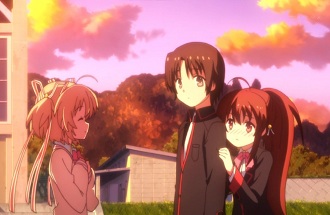 "If You're Happy, I'm Happy"
"Kimi ga Shiawase ni Naru to, Watashi mo Shiawase" (君が幸せになると、私も幸せ)
On the school's roof, Riki finds Komari Kamikita, a clumsy girl from his class who loves sweets. Riki tells her he wants to recruit her for the baseball team, but he soon realizes that she may not be well suited for baseball. Later, Riki goes to find Rin after she shirks her classroom duties to play with several cats. One of the cats has two notes tied to it, the first of which says that there is a secret to the world and if they want to find out what it is, they have to complete several tasks first. The second note lists their first task: Fix the sanitation problem in the boys' dorm storage shack. Riki doubts the sincerity of the notes, but Rin is excited to take on the first task. She later gathers up Kyousuke, Riki and Masato to go clean the storage shack. Komari finds them there and agrees to be join their baseball team, but first she and the others go to work cleaning up the shack. On the baseball field, Komari displays a complete lack of athletic ability, but Kyousuke still welcomes her onto the team after she replies to his question of what is necessary for baseball with the answer, "Guts, bravery and friendship." Soon after, Riki collapses from an attack of narcolepsy, which he has had since childhood.