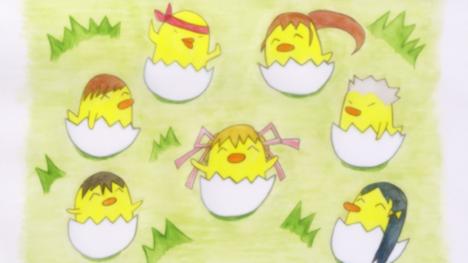 "Let's Find Wonderful Things"
"Mitsukeyō Suteki na Koto" (みつけよう すてきなこと)
Komari is in shock from remembering her dead brother Takuya, recalling the time they spent together in the hospital. In Komari's recollection, Takuya writes a picture book for her, and tells her that he might be gone when she wakes, but tells her not to be sad because it will all be a dream. When Komari awakens, her brother has died, but she remembers what he said, and does not despair. As a defense mechanism, Komari begins to believe that Riki is her brother. Kyousuke tells Riki that if anybody can save Komari, Riki can. Riki speaks with Kojirō, who tells him that this happens every time Komari witnesses death, and that she will return to normal in a few weeks. However, Riki is determined to save Komari, and adds to Takuya's story book. Riki forces Komari to accept her brother's death, but through his extension of Takuya's book, shows Komari that she has friends to support her.