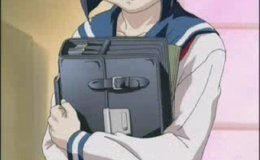 "The Hinata's New Resident, Shinobu: Arrow Signs"
"Hinata sō no Shinjūnin Shinobu Yajirushi na" (ひなた荘の新住人しのぶ 矢印な)
Shinobu Maehara is a girl going through troubling times. Her parents are going through a divorce, she has no friends & is moving away from Hinata. She has a chance encounter with Keitaro and ends up with his sketchbook which has drawings of her in it, smiling. Keitaro and the others hide her when her parents see that she is missing. Shinobu's parents let her live at the Hinata Apartments, where Shinobu becomes the cook.