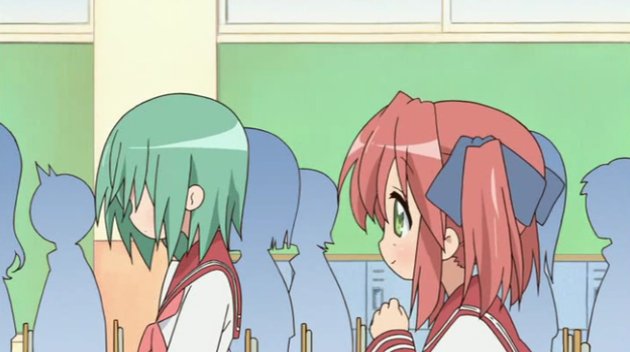 "I Can't Suddenly Change"
"Ikinari wa Kawarenai" (いきなりは変われない)
Konata, Kagami, Tsukasa, and Miyuki go to a live concert event, Suzumiya Haruhi no Gekisō, which leaves Konata amazed by Aya Hirano's performance. When April Fool's Day comes around, Konata calls Kagami and tells her that she is done with her homework, and Kagami falls for it. Nanako later calls her and tells Konata she accidentally wrote over one of Konata's save files in one of her games, which makes Konata lie to Nanako about Miyuki, after falling for the April Fool's joke. When the new school year begins, Konata, Tsukasa, and Miyuki are put into the same class again, while Kagami is put into a separate class. Yutaka is in the same class as Minami, and is starting to become good friends with her.