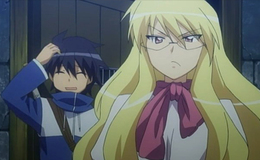 "The Magic Institute's Crisis"
"Mahō Gakuin no Kiki" (魔法学院の危機)
At night, Eléonore puts Louise in jail to prevent her from going into war; even Saito and Colbert agree and doesn't wish to see more people get hurt. Sheffield sends hired mercenaries to make a surprise attack on the Magic Academy to take all of the female members of royal families' hostage. Tabitha noticed it and warns people. The Musketeer Force surrounds the academy but the mercenaries counteracts. Saito releases Lousie, and their friends plan on how they will rescue the hostages as it will take too long for the reinforcements to come from the palace. Agnès fights Benubiro the vice-captain. It is discovered Benubiro is one of those who attacked Agnès' D'Angleterre and burnt it to the ground 20 years ago.