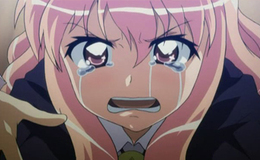 "The Farewell Wedding Ceremony"
"Sayonara no Kekkonshiki" (さよならの結婚式)
Saito rescued Louise from the rebellion. Later, Louise was secretly approached by Henrietta's adviser, Mazarin, and is asked to hold the enemy off while the Queen and everybody prepare their escape; she accepts. Knowing it's a suicide mission since Albion has assemble an army of 70.000, Louise plans to send Saito to safety, but first expresses her desire to marry. They both buy two magical flowers. Saito knows of Louise's plan, so he uses the sleeping potion on her after they wed, and asks Julio to take care of her as he sets out to meet Albion's advancing troops. Louise faints before she can tell him she has always and still loves him. Despite his valiant efforts, Saito falls on the battlefield and dies. Back at the Tristain academy, almost everyone is saddened for the loss of their hero – Saito. Louise collapses in grief at Saito's death; however, suddenly the magical flower that is connected to Saito comes back to life. Louise runs out and meets Saito who is very much alive. Saying that a Fairy saved and revived him, but mentions that she had large breasts; Louise flies into a jealous rage and shoots explosion spells at Saito again.