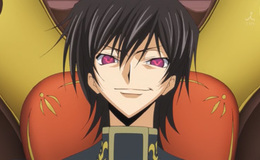 ラグナレクの接続
Ragunareku no Setsuzoku
The Ragnarok Connection
Within the Sword of Akasha, Lelouch learns the truth of his mother's death from the Emperor and Marianne herself. They reveal Ragnarok will merge everyone into the collective unconscious. However, Lelouch disagrees with their reasoning, believing there is no future in that life, and uses his Geass on the collective unconscious to stop Ragnarok, resulting in his parent's death. One month later, Lelouch is inaugurated as the new Emperor of Britannia with Suzaku at his side.