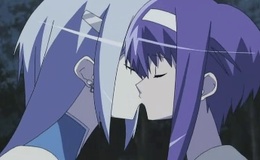 "Dating Relationship?"
"Dēto!? na Kankei" (デート!?な関係)
Kakeru starts to become curious about where the Akikan owner is, while Najima notices the ringtab on Melon's ear. When she asks Kakeru concerning the date, she is told it would have to be postponed indefinitely. Later, Melon spots someone on a baseball game that looked similar to the Akikan she fought, and they go off to investigate, visiting an amusement park and a baseball game, where it turns out the girl in question was just a sports drink vendor. Najima spots the two together, and orders Yell to punish Kakeru. Yell then proceeds to slash her energy sword across his stomach.