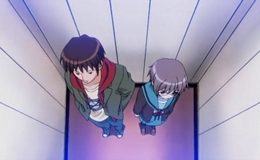 "The Melancholy of Haruhi Suzumiya Part Two"
"Suzumiya Haruhi no Yūutsu II" (涼宮ハルヒの憂鬱II)
Haruhi begins to improve the appearance of the clubroom, but still feels that it is missing something, that being a computer. Going next door, Haruhi manages to obtain a computer by having photographic proof of making it seem that the Computer Research Society president sexually harass Mikuru. She enlists the help of Mikuru to help promote the SOS Brigade by dressing up in a bunny costume and handing out fliers. Later, Yuki invites Kyon to her apartment, where she unveils that she and Haruhi are considered aliens.