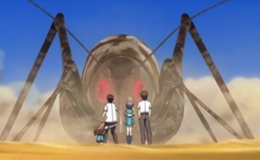 "The Melancholy of Haruhi Suzumiya Part Six"
"Suzumiya Haruhi no Yūutsu VI" (涼宮ハルヒの憂鬱VI)
One night, Haruhi's power is activated without her knowing, and both she and Kyon become trapped in a sealed reality at their school. As Haruhi goes out on her own, Kyon is met by Itsuki, who tell Kyon that Haruhi might have created this world to be alone with Kyon. Yuki contacts Kyon via computer and gives the hint of Sleeping Beauty as a means to return back. Kyon and Haruhi are forced to evacuate when blue giant entities appear and begin to destroy the school and the surrounding area. Using hints provided by Yuki and Mikuru beforehand in order to defuse the situation and escape, Kyon kisses Haruhi as he expresses his desire to return to the old world. It remains unknown whether or not this world is the old one or a new one, however the three other members are glad to see Kyon back again.