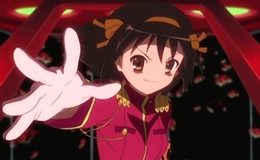 "Remote Island Syndrome (Part Two)"
"Kotō Shōkōgun (Kōhen)" (孤島症候群(後編))
The SOS Brigade attempt to find clues to the murder of Keiichi. Yutaka Tamaru is initially suspect due to having been seen leaving the island the previous day before the storm hit. Kyon and Haruhi head outside during the storm, but find nothing, not even the boat. While drying off inside a cave, Haruhi comes to a startling conclusion about the murder, though there was a flaw to her story. They return to the villa and set to devising a plan to solve the mystery, but Haruhi later gives up trying to crack this case. Itsuki tells Kyon another theory to how the murder occurred, which leads the latter to prevent this from being known to the others. It is soon revealed that the murder was just a hoax to spur up excitement. Haruhi explains how she knew that the murder was faked. As the SOS Brigade set sail from the island, Itsuki says to Kyon that this was a plan to get Haruhi to keep her mind free from strange thoughts.