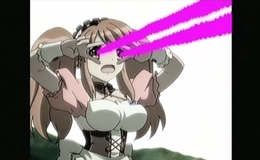 "The Adventures of Mikuru Asahina Episode 00"
"Asahina Mikuru no Bōken Episode 00" (朝比奈ミクルの冒険 Episode00)
The SOS Brigade previews their movie of questionable quality. In the movie, Mikuru Asahina stars as a time-travelling waitress from the future who must engage in fights with Yuki Nagato, who is playing as an alien-magician. Mikuru has sworn to protect a young man, played by Itsuki Koizumi, but a love-triangle ensues with both Mikuru and Yuki striving for Itsuki's affections. Kyon is the narrator of the movie, while Haruhi Suzumiya is the director. The production of this movie can be found in the episodes, "The Sigh of Haruhi Suzumiya".