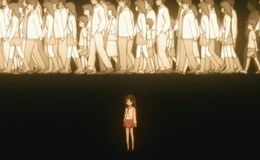 "The Day of Sagittarius"
"Iteza no Hi" (射手座の日)
Hoping to reclaim the computer Haruhi extorted from the Computer Research Society earlier in the year, the Computer Research Society president challenges the SOS Brigade to a computer game they created for the cultural festival entitled The Day of Sagittarius III. Haruhi accepts his challenge, but soon finds out that playing the game is much harder than she thought. Yuki is initially mystified by the computer's operation but catches on quickly, as she will tend to do. Eventually, she manages to find out that Computer Research Society club members are cheating and is able to block and use it against them, thus winning the game and some laptops for the SOS Brigade club room.