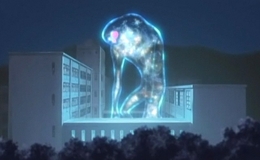 "Someday in the Rain"
"Samudei in za Rein" (サムデイ イン ザ レイン)
The skies are overcast with a chance of rain, and Haruhi instructs Kyon to go pick up a heater. With Kyon gone, Haruhi takes pictures of Mikuru in various costumes for the movie's DVD cover, Itsuki helps how he can, and Yuki is left alone to read. After Kyon returns, he finds only Yuki in the club room and decides to wait for the others, but falls asleep. When he awakens, he finds Haruhi alone with him, waiting for him to wake up so they can leave. It has already started raining, so Haruhi borrows an umbrella from school for them to use. When returning home, Kyon finds a more playful side to Haruhi and in the end, she pulls a playful tongue-out face.