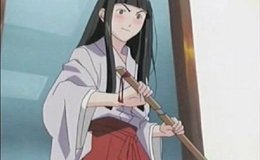 "Kendo Girl in Love?: Swordplay"
"Koi suru!? Kendō musume Kengeki na" (恋する!?ケンドー娘 剣劇な)
Motoko Aoyama has returned to the Hinata Apartments and is shocked to find a man in charge. She tries to attack Keitaro with her wooden sword numerous times, yet eventually comes to more or less accepting him as the manager.