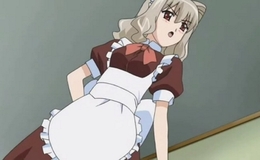 ひとつ屋根の下
Hitotsu yane no shita
Beneath the Same Roof
After learning that Grandma Yoshino had long since pass away, and when Jun'ichi inadvertently showed his only magical skill because he is Yoshino's grandchild, Aisia decides to make him her "Master". When Mako discovers her, she insists on having Aisia stay at the Mizukoshi residence, until it becomes too difficult to have her around. Aisia then returns to Jun'ichi's house to stay.