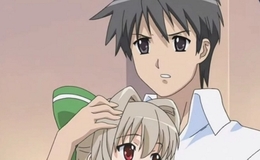 桜並木の向こうに
Sakura namiki no mukō ni
Past the Rows of Cherry Trees
Aisia has been settled into living at Jun'ichi's house, and he mentions she will be going to Kazami Academy with him apparently. Convince that Jun'ichi studies at a school of magic, Aisia sneaks into the school and begins to cause chaos with her magic when she tries to make things more convenient for the campus. Jun'ichi overslept and arrives at school just in time to find Aisia.