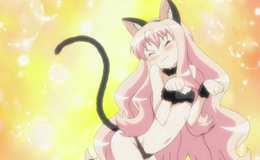 "The Silver Pentecost"
"Shirogane no Kōrinsai" (銀の降臨祭)
Henrietta's forces enter Gothia and claim it as their own. Meanwhile, Louise gets mad at Saito for not understanding her, while Saito thinks the same thing about her. A while later, Henrietta asks for Louise and Saito to scout the enemy forces. As Louise sees Saito, who is fixing the plane, she asks Julio to do the mission with her instead, as he agrees; Saito comes and is confused with what they are doing. Filled with fury, Louise orders Julio to go soon and he did. Albion's dragon forces attack them, but they manage to get away. As they come back, Louise is advised by Derflinger to exchange roles with Saito for a day. Saito unexpectedly meets Siesta and her uncle and cousin whose revealed to be Scarron and Jessica. The gang discovers Louise in a cat costume; she lies to Saito saying it was for Julio. As Guiche arrive and shows his Medal of Honor for coming back from the dead, no one believed him. Saito becomes frustrated with Louise about her arrogant ways of being loyal to the Queen. Siesta takes Saito to a room alone and kisses him then gives him a sleeping potion as a gift. Meanwhile, Sheffield, uses the Ring of Andavari to make Henrietta's army follow her orders and causes a rebellion. They soon attack Henrietta, which causes the death of Henrietta's general, Porche.