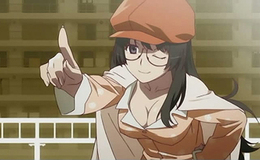 つばさキャット 其ノ參
Tsubasa Cat Sono San
Tsubasa Cat – Part 3
On the way to school, Koyomi finds Hachikuji in the middle of the street and assaults her in a teasing manner. Hachikuji panics and breaks his finger. Later after they calm down, Hachikuji tells Koyomi that she saw Shinobu at the donut store.