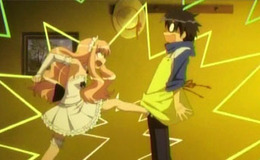 "Louise's Part-Time Job"
"Ruizu no Arubaito" (ルイズのアルバイト)
Henrietta congratulates Louise for capturing Fouquet; she offers her hand to Saito, but misunderstanding Louise's prompting, he kisses her on the lips! Henrietta asks Louise and Saito to work undercover in town to determine if nobles are taking advantage of the commoners. Louise loses all of their money in a casino where she was hoping to increase their funds so as to be able to afford an expensive hotel room. Refusing to ask for more money, Saito and Louise find work at a tavern called Charming Fairy Inn run by Scarron and his daughter, Jessica. Louise takes a position as a waitress and Saito works as a scullion washing dishes where he is in close contact with Jessica much to Louise's displeasure. Scarron holds a contest for the waitresses: whoever gets the most tips gets a large reward plus the chance to wear a special maid outfit. Louise is unable to earn any waitress tips because of her temper, but her moment of salvation comes when an arrogant noble enters the bar. After bringing him to justice, the noble runs off, but leaves a large amount of money; the "tip" enables Louise to win the contest. Even though she and Saito now have to leave she wears the special maid outfit just for him.