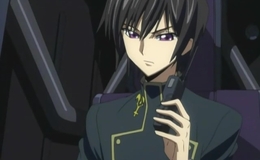 覚醒の白き騎士
Kakusei no Shiroki Kishi
The White Knight Awakens
Lelouch is questioned by Villetta Nu about the dead soldiers. Using Geass, he orders her to give him her Knightmare Frame, a giant mechanical robot. Lelouch then leads the terrorist group to combat Viceroy Clovis la Britannia's army forcing them to utilize the experimental Knightmare Frame Lancelot piloted by Suzaku. Lancelot defeats the terrorist group while Lelouch holds Clovis at gunpoint and orders him to withdrawal his army.