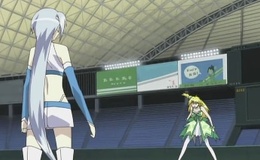 "Deeply touched! Humans and Akikans"
"Kandō! Hito to Akikan to" (感動!人とアキカンと)
Melon discovers Yell who had just harmed Kakeru with her sword. Before the battle could continue, Najima returns Yell to can form, apologises and runs off. Kakeru declines going to the hospital, since it would get Najima in trouble. Feeling responsible for his injuries, Melon decides to fight Yell on her own. Yell tries to console her owner, but Najima is still in shock. Melon arrives, tells Najima to go to Kakeru, and tells Yell to follow her to the baseball stadium where none would get hurt. When Kakeru becomes aware of the situation, he starts to head off to find them. Najima asks if he likes Melon, he said he thinks of both of them as his important friends, and wants to be friends with Yell too. Stuck in a traffic jam, they ask Goro to come by with his motorbike. When it almost crashes, Yurika appears as a fully fledged witch and carries them to safety. The fight between Melon and Yell had reached a critical point with both of them reaching their limits, but Kakeru stops the fight and tells everyone to get along.